Simon Cowell gatecrashes music industry rich list
X Factor mogul worth £200m joins Andrew Lloyd Webber and Sir Paul McCartney in top 10 of Sunday Times music rich list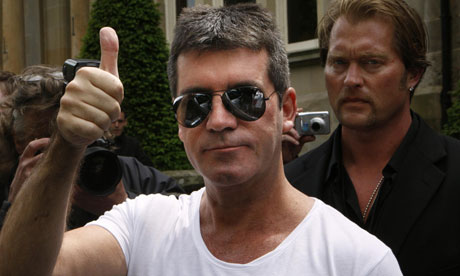 Richer than Elton … Simon Cowell leaps into top 10 of Sunday Times music rich list. Photograph: Danny Lawson/PA
Simon Cowell has soared into the top 10 of the annual Sunday Timesmusic rich list, with an estimated fortune of £200m.
It is the first time the X Factor mogul has made the top 10, reaching No 6, up from 11 last year. The ongoing success of the show, plus the deal to export it to the US this year can be credited with his spike.
Clive Calder, who co-founded Zomba Records and its subsidiary Jive, tops the list with £1.3bn, with Andrew Lloyd Webber in second place with £680m. The rest of the top 10 comprises Sir Cameron Mackintosh (£675m), Sir Paul McCartney (£495m), Simon Fuller (£375m), with the four remaining places after Cowell going to Sir Elton John (£195m), Sir Mick Jagger (£190m), Sting (£180m) and Keith Richards (£175m).
Cowell has increased his personal wealth by £35m this year. But Ben Cardew, news editor of Music Week, cast doubt over whether Cowell belongs in the music list at all. He told the Guardian: "I'm slightly dubious about any of these lists but whatever his actual 'fortune' may be, it's clear Cowell has done well financially over the past few years. For all his success with selling music, I would imagine most of his money comes from TV."
Rich List editor Ian Coxon told Bloomberg: "Simon Cowell owns a share of the programmes he's involved in as well as being in front of the camera. He's busy behind the scenes and also responsible for many of the performers, so he's taking pots of money in all directions."
Perhaps a more revealing picture of where the music industry is heading can be seen in the top 20 young music millionaires, in which the top five are all women. Classical-crossover singer Katherine Jenkins tops the list with an estimated £13m. Cheryl Cole climbs two spots to second place, shared jointly with Leona Lewis and Katie Melua (all £12m), then Joss Stone (£9m). Charlotte Church (£8m) drops to sixth place, with Adele, Lily Allen, Natasha Bedingfield, Duffy and Amy Winehouse each in joint ninth place with £6m each.
Cowell recently confirmed he would not be taking a weekly judging role on the UK X Factor, with Take That singer Gary Barlow hotly tipped to replace him. However, the judging panel for the British export remains uncertain, with Cheryl Cole's future in question. Other performers who have been variously linked to the role include Rihanna, Katy Perry, Nicole Scherzinger, Nicki Minaj and Paula Abdul.