Beyoncé debuts charity single God Bless the USA
Singer unveils patriotic power-ballad on Piers Morgan Tonight, with proceeds going to families of 9/11 victims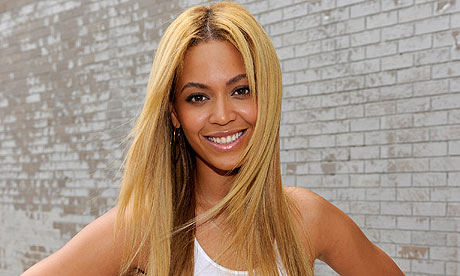 Patriot claims … Beyoncé premieres God Bless the USA on Piers Morgan Tonight. Photograph: Kevin Mazur/WireImage
Beyoncé is releasing her second new single in as many weeks, followingRun the World (Girls) with new charity track God Bless the USA.
Fans peturbed by the "challenging" nature of Run the World (Girls) will probably be reassured by the patriotic power-ballad, which she performed on Piers Morgan's CNN show last night (Thursday 5 May). The former Daily Mirror editor announced the performance via Twitter: "If you don't get teary at the end of @PiersTonight and the world premiere of Beyoncé's God Bless the USA, you're probably not from here."
God Bless the USA was written and originally released in 1984 by country musician Lee Greenwood, and was played at this year's Republican party convention. Its popularity increased after 9/11, and it was re-released following the 2003 invasion of Iraq. Beyoncé's version will raise funds for the New York Police and Fire Widows' and Children's Benefit. The singer originally recorded the track in 2008 for the Obama presidential campaign, but never released it. It seems likely the death of Osama bin Laden on Monday has been the spur for this release.
God Bless the USA certainly stands in contrast to Beyoncé's last intervention in national affairs, when she joined first lady Michelle Obama's anti-obesity campaign, Move Your Body.